The Artist of the Deal: Mike Zeck
I remember as a kid in the mid Eighties, my cousin Paul and I used to argue who is the best Comicbook artist. While I was all for Team Michael Golden since his work on the Micronauts, Paul arrogantly boasted how Mike Zeck was the superior artist.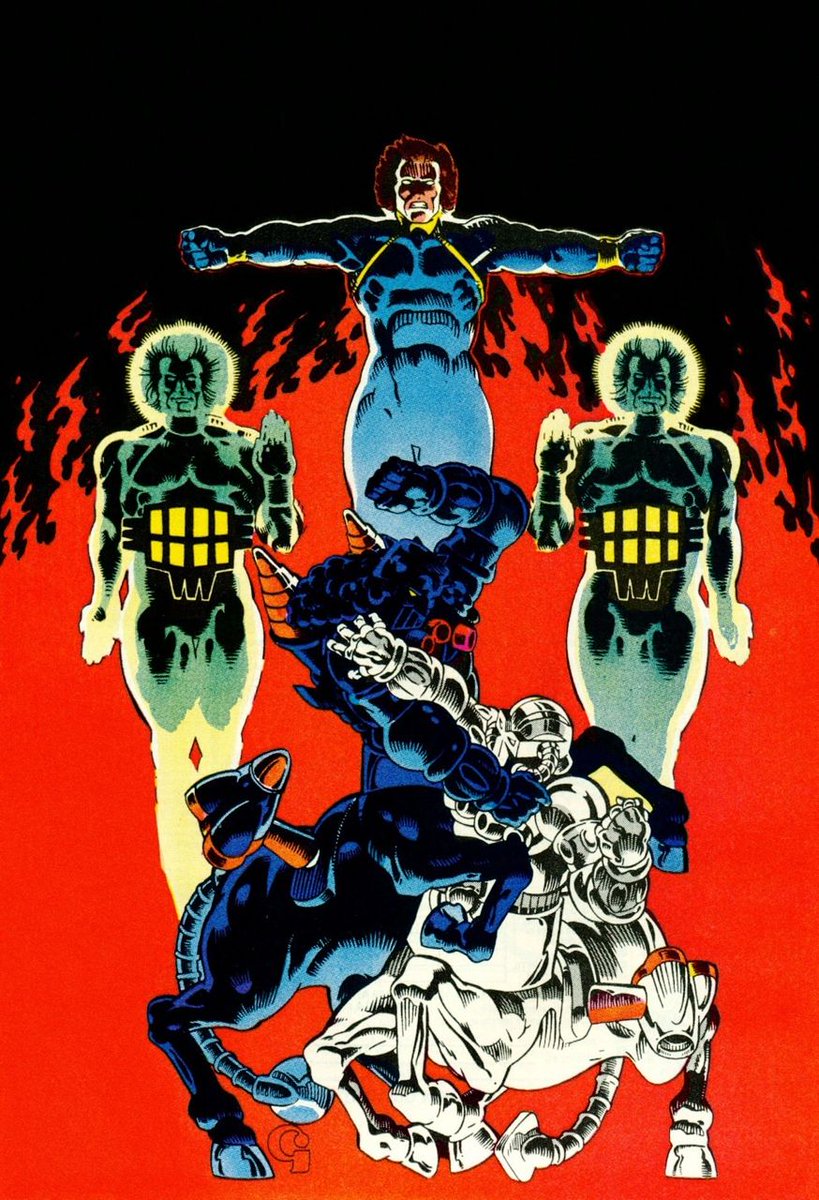 The thing I love so much about Golden's work, is how he creates this power dynamic , be it explosive action panels that just leap from the pages to intricately detailed aesthetics from the centered characters juxtaposed to the background. Golden's use of storytelling is so gravitating that I can understand what is going on without the need of word balloons.
And on the other side, there was this guy Mike Zeck who was cutting his teeth during his stint on Captain America with Writer J.M. Dematties, but there was one storyline that caught my attention: The Deathlok Lives saga where Cap is sent "back to the future" to help Deathlok stop a Cyborg madman, Hellinger.
This three-part saga was a perfect love letter to creator Rich Buckler's gamechanger cyberpunk series during the Astonishing Tales run. As with Golden, Zeck's pages and especially his covers, was about dynamic presentation that lures the reader to purchasing the comic. It was the first cover from the saga, that I used as my signature Disqus avatar for almost 10 years!
After Zeck left Captain America, he handled the illustration behind Marvel's 12 part epic, Secret Wars which became an overnight success and furthered cemented the artist's name within the circles of the Comicbook industry and geekdom in general. Despite the critical acclaim from Secret Wars, Zeck wasn't done yet! His next project, was to "resuscitate" a long forgotten vigilante, The Punisher.
Conceived by Steven Grant, written by Jo Duffy, and illustrated by Mike Zeck, this Marvel miniseries has vigilante Frank Castle fighting for his life, while being confined in Ryker's Penal colony, after being sent up the river during a confrontation with Daredevil during Frank Miller's stint, last I remembered.
Castle manages to escape with a little help from The Trust, a sponsored underground vigilante organization who recruits Frank to do what he does best. While the premise is familiar to those who have watched movies like The Star Chamber and Magnum Force, it was Duffy's suspenseful noir-esque approach to this then D list character along with Zeck's detailed pencils that kept me buying one issue after another. And if that wasn't enough, I collected all five posters based on the comic's covers, courtesy of Zeck and airbrushed by some artist Phil Zimmerman. I had no idea why Zeck left the miniseries after the fourth issue, but this was the comic that gave a wide berth of exposure for the the character and in turn, had his own series which grew a much larger fanbase.
Now somewhere during or prior to his work on both Secret Wars and the Punisher, Mike Zeck was also known for handling many if not most of the covers for G.I.Joe A Real American Hero that were featured in several animated spots making him the only Comicbook artist to have his artwork featured in the most televised commercials.
In 1987, Zeck has shocked the world of Spider-Man and readers alike , when he and John Marc DeMatteis reunited for a five part crossover "Fearful Symmetry: Kraven's Last Hunt" a very powerful storyline where Kraven the Hunter buries Spider-Man in a coffin and takes up the mantle of the spider! While Peter Parker's wife Mary Jane, is left troubled by his disappearance. While many associate Kraven's Last Hunt, with DeMatteis' exceptional neo noir narrative with elements of horror and its shocking conclusion regarding the fate of Kraven, none of this would not have had such impact, if not for Zeck's brilliant storytelling.
For some reason, I came away from this series, somewhat saddened as it was the first time I had sympathy for a Supervillian and how he just ended his life. Its one of the best stories not only for a Spider-Man comic, where shit really got dark, but comics in general.
Now fast forward to the present, where Heritage Auctions has sold Zeck's original comic book art pieces which includes the origin story for Spider-Man's black costume in Secret Wars #8. The suit's first appearance on page 25 was auctioned off for well over
$3.3 million
which breaks the record for the highest price paid for any comic book art.
This gives more relevance to Spider-Man's black suit which of course, is now in Eddie Brock's possession as most of us already know. But what most who are familiar with the black costume, wasn't aware of was that the idea was suggested by a fan, as in having a black costume for "stealth missions !"
So, is Mike Zeck my favorite artist or the GOAT? In some ways, yes and while I still rate Michael Golden a bit higher than Zeck, he belongs in my top five favorite artists of all time, unseating Jim Lee. Zeck's artistic journey ends on a somewhat high note after selling off his works and making a huge profit, a feat where other accomplished artists have yet to achieve this modicum of success.
Congrats, Mike!