Pop Topix' Weekly Wrap 8-20-21
Another week, another segment of Pop Topix's Weekly Wrap where I handpick the more interesting pop culture topics for the week ending on August 20, 2021. Let's get to it!
That was quick: Snake Eyes and Green Knight arrives on home streaming, after less than a month of their theatrical releases!!
The Covid pandemic has once again, impacted the motion picture industry. Just when studios were feeling a bit of confidence when distributing films like Black Widow, Suicide Squad and the G.I. Joe spinoff prequel, Snake Eyes, unfortunately the Box office returns has all but crushed their optimism due to less than expected audience turnout in theaters, due to concerns about the Delta variant that originated from India and England.
So, as a preemptive measure, Paramount who released Snake Eyes: G.I. Joe Origins "only in theaters" July 23, 2021 with a budget of $88–110 million, resulting in a Box office gross of $30 million, had distributed the prequel recently as in 8-16-21 as a means to recoup the losses from its lackluster premiere.
Meanwhile, A24's The Green Knight made an alternative attempt to release the much anticipated and hyperbolic film to moviegoers who cannot make it to the theaters by offering a One-day Green Knight streaming via their virtual Screening Room platform during a four-hour window and at a cost of $20.
Soon afterwards, A24 had announced that the film will be made available to major streaming platforms as of August 19th with rent or own purchases! Ouch! The Green Knight debuted on July the 30th making $3 million during its opening day totaling $6.78 million with much critical acclaim. With Matt Damon's recent Stillwater, had made an immediate shift to streaming from its dismal theatrical release and it's only a matter of time before Ryan Reynolds' summer hit, Free Guy makes its way over to digital streaming.
"Jeopardized." New Jeopardy Host Mike Richards is under fire for past insensitive comments!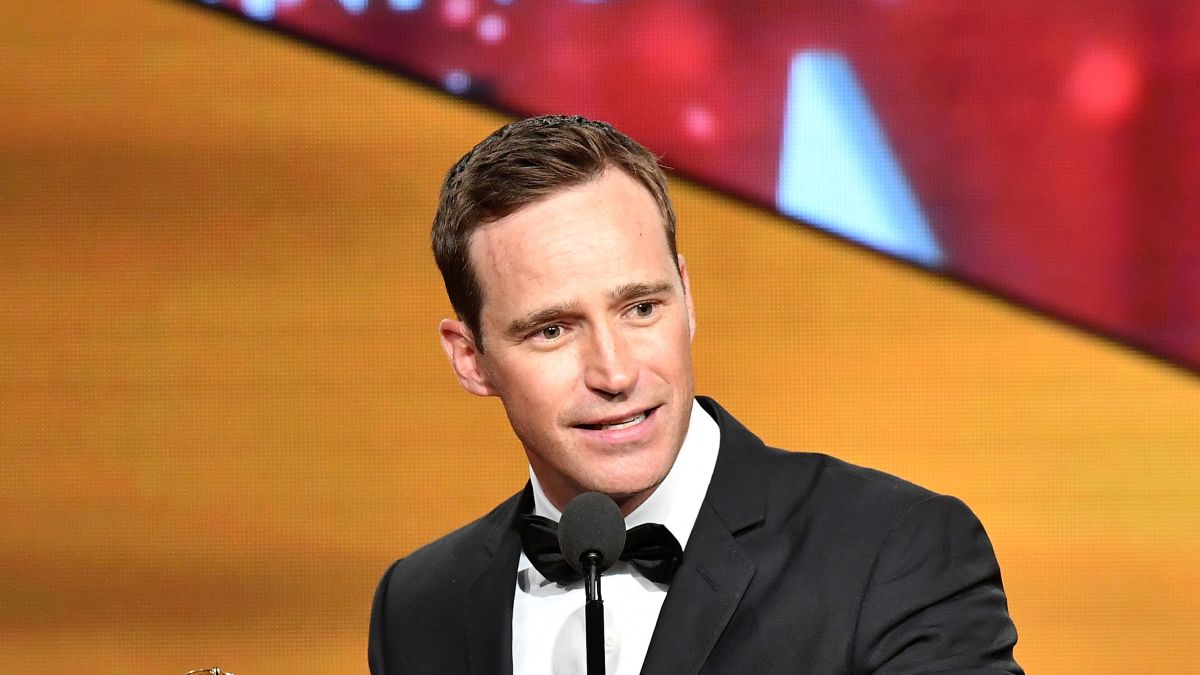 In today's current climate where everything you do or say, can be unearthed especially when it's a celebrity who is off to a promising career or reaches the plateau of success, expect to get pulled down as previously witnessed in the case of Rosanne Barr, Morgan Wallen, James Gunn and now our latest contestant, Jeopardy producer and now "permanent" co-host, Mike Richards!
Not to be confused with the bigoted disgraced Comedian Michael Richards, Mike Richards' has issued an apology after a slew of unearthed derogatory comments about Jews, and women among a few other insensitive remarks within 2013 to 2014 on his podcast "The Randumb Show."
"It is humbling to confront a terribly embarrassing moment of misjudgment, thoughtlessness, and insensitivity from nearly a decade ago. Looking back now, there is no excuse, of course, for the comments I made on this podcast, and I am deeply sorry,"
Richards claimed that his comments from the Podcast, were "intended to be a series of irreverent conversations between longtime friends who had a history of joking around."
Said remarks from his now deleted podcast, were brought to the forefront courtesy of
The Ringer
Richards was also involved in Lawsuits filed under discrimination accusations which he settled out of court. As for now, the Jewish Defense League plans to investigate Richards that may help to remove him from the host gig, but time will tell. In the meantime, is Levar Burton available? 😉
So, is it too late to call @levarburton back?😁

— Poptic Nerve (@PopticNerve) August 19, 2021
Return of the Mackie: Falcon's Anthony Mackie is ready to take flight in Captain America 4!
Falcon and the Winter Soldier star Anthony Mackie has inked a deal with Disney for another sequel to Marvel's First Avenger, Captain America that will be scripted by Falcon and the Winter Soldier" head writer Malcolm Spellman. As of this reporting, no further details are known. However, if you ask the fans or viewers of the Disney Plus series, theories and speculation would point to Sam Wilson as the new Cap, once again, teaming up with Bucky Barnes (Sebastián Shaw) against the Power Broker and the Contessa (Julia Louis-Dreyfus) who may conduct a rogue like Avengers outfit with John Walker's USAgent and possibly the "White Widow" who of course, could be Yelena Belova from 2021's Black Widow.
Mackie made his first appearance as Sam Wilson in 2014's venerable sequel Captain America: The Winter Soldier.
Eternally yours: The Eternals final Trailer
And in more Marvel Cinematic Universe news, here is the final trailer of Marvel's The Eternals!
Based on Jack "King" Kirby's 1976 Comicbook series, The Eternals are an immortal race of Superpowered beings who are the further evolution between Humankind and the lower end, undersea species called the Deviants. While the Comics were epic in scale, Director Chloe Zhao's adaptation leans more towards a Western "aesthetic ". In layman's terms, your mileage may vary.
Marvel's Eternals is slated for release this coming November.
Batman Returns Again as Michael Keaton reprises his iconic role in the upcoming Flash movie!
"Don't call it a comeback..!"
Actor Michael Keaton has resurfaced thanks to a few current projects, The Protege, a 9/11 drama titled Worth, the Hulu series based on the opioid epidemic, Dopesick. And the most exciting news. revising his Superhero roots by once again, donning the cape as DC Comics' Batman, who his last appearance was during 1992's sequel, Batman Returns.
Recently, Keaton wrapped up shooting the Warner Brothers movie The Flash, reprising the role that began in the 1989 Tim Burton film, contributing to the Superhero Renaissance in cinema.
Post Batman films, Keaton starred in another Superhero movie, Spider-Man Homecoming as Toombs aka The Vulture, who chewed up scenery when giving Peter Parker a "slice of advice!"
Keaton will also return in the Spider-Man spinoff Mobius the Living Vampire opposite Jared Leto slated for a January 4th release. But in the meantime, if you haven't already seen Keaton's excellent performance in both The Founder and Birdman, what in the hell are you waiting for?
Sonny Chiba (1939-2021) The Streetfighter is dead, long live Terry Sugury!
In sad news, legendary Martial Arts actor Sonny Chiba has passed away after succumbing to the Coronavirus at the age of 82. While most remember Mr. Chiba as retired swordsman Hanzo from Kill Bill, who gifts Uma Thurman's character, The Bride, it was 1974's The Street Fighter that make Chiba a household name outside of Japan during the Kung Fu craze that Bruce Lee helped to ignite around the World. In the martial arts Crime Drama, Chiba plays Takuma Tsurugi, written in the U.S. as Terry Sugury who is an immoral martial arts expert and professional mercenary for hire. Although he lacked the fluidity and expertise of Bruce Lee, It was his Chiba's Antihero role that differentiated him from the other Chopsocky actors who often play heroic archetypes or those who were done wrong and now seeking revenge.
"The Street Fighter," was perhaps the first action movie released in the U.S. by New Line Cinema that received an X rating for its violence and limited gore. Chiba appeared in four Street Fighter films, which included the Spinoff, Sister Street Fighter.
He also held several black belts in the following martial arts:
Kyokushin Karate: 4th Dan
Ninjutsu: 4th Dan
Goju-ryu karate: 2nd Dan
Shorinji Kempo: 2nd Dan
Judo: 2nd Dan
Kendo: 1st Dan
Director Quentin Tarantino who is a huge fan of Sonny Chiba once claimed that he is "better than Bruce Lee."Rest in Power Chiba-san, you will be forever missed. In the meantime, I'll be binging on a Street Fighter marathon over the weekend.
Boseman Honored
August is not only the month of the King as in Kirby, but also a Prince.
The late, great Chadwick Boseman who died from Colon cancer, was known for his much appraised role as Tchalla, Prince of Wakanda/Black Panther (Created by Jack Kirby) during a span of three years, will be honored this Weekend for the major Charity event, Stand Up to Cancer.
SU2C is a fundraiser featuring a huge array of celebrities to help treat and possibly one day, trough medical research, provide a cure to this horrible disease.
Prior to the event, Boseman reprised his role as Tchalla for one final time in Disney Plus'
What if
.., where he is abducted by Yondu instead of Peter Quinn, the original Starlord.
Stand Up to Cancer will arrive on all major networks this Saturday. You can donate in Boseman's name or anyone who were affected by Cancer,
here
.
And that's the Wrap. Stay safe 🙏