Lance Reddick 1962-2023
Damn, as if there wasn't enough bad news in the world, this came from out of nowhere!
Lance Reddick of TV series, Fringe, The Wire and films like the popular John Wick franchise has died apparently of natural causes at the age of 60. Born on December 31, 1962, in Baltimore, Maryland. Prior to pursuing a career in acting, Reddick studied music and performed as a classical vocalist. He later earned a Master of Fine Arts degree from the Yale School of Drama.
While most are familiar with his television roles such as "The Wire," as Cedric Daniels and "Fringe," Reddick also appeared in "Bosch," and NBC's "The Blacklist." But it was the HBO series OZ, where he made his debut, as the ill-fated Detective Johnny Basil imprisoned along with the other inmates who had disdain for the former Officer.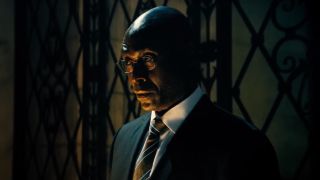 Reddick had recurring appearances in the Super assassin thriller "John Wick" franchise, where he played as Charon, the concierge at the Continental Hotel, which is a neutral ground for members of the criminal underworld. Other notable appearances include "White House Down," and "Oldboy".
Not too recent, Reddick portrayed Albert Wesker, the main antagonist from the Resident Evil games, that became a limited series on Netflix. I say "limited" as in the sudden cancellation after it was poorly received. However, Reddick gave it his all and then some despite a very disappointing script and poor production values. In addition to his acting career, Reddick was also a skilled musician and has released several albums showcasing his talents as a singer and composer. He was also involved in various charitable organizations and causes, including the International Rescue Committee and the NAACP Legal Defense Fund.
Rest in Power, Brother Lance. Another one gone way too soon.