Good Luck to You, Leo Grande (Review)
I have seen my share of Sex Drama Comedies that fall within their own category, distancing themselves from conventional films like say, The Graduate because of its nuance approach to the hybrid genre.
I find movies like Mother, The Last American Virgin, White Palace, Boogie Nights, Class, Fast Times at Ridgemont High and The Sessions, so now, we are introduced to Hulu's Good Luck to You, Leo Grande, a Sex Comedy with dramatic scenarios within the mid-section of this film's storyline. Directed by Sophie Hyde and starring Emma Thompson and Daryl McCormack as the titular character, this film centers on Nancy Stokes a retired Teacher, who is also a widow who is seeking excitement after a long-winded marriage that was both dull and unsatisfying, Nancy employs a young sex worker called Leo Grande, in hopes of enjoying a night of pleasure. Interesting synopsis, yes?
Well, that depends on the viewer's tolerance with a film that has it's share of pacing issues as the story is jammed with over70 minutes of conversation dialogue within a hotel suite as a nervous and conflicted Nancy attempts to know more about her hired lover with your standard "Lifetime Channel-esque' piano soundtrack that adds a modicum of emotional weight. Personally, more exterior shots would have helped to improve the narrative, but perhaps they were shooting within the confines of its budget?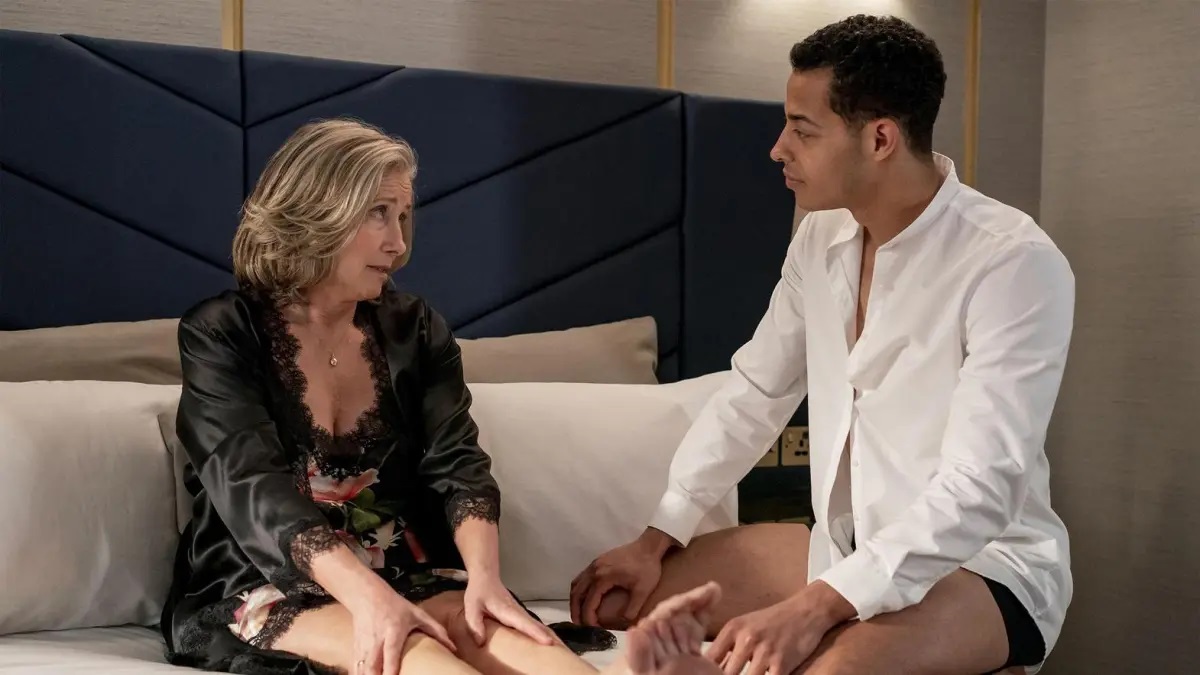 Based on the Rotten Tomatoes score, "Leo Grande" was rated at 97% fresh and perhaps it's the overall concept and body positivity messaging that made this Sex Comedy Drama favorable among critics. However, I have some critiques albeit, minor ones about with this "Dram-Com."
While I applaud Thompson's brave performance and bares all that even put Julianne Moore to shame, her character Nancy, was a bit too neurotic at times, especially when inquiring about her paramour to the point of interrogation. And it seems that Leo's backstory reveal wasn't as dramatic as I assumed. There was a slight tension build-up that led to some incident involving his estranged mother that made him defensive after Nancy had done some deep digging.
The payoff is during the 3rd act or rather, the "Third Visit" chapter when things get very steamy as a once hesitant Nancy, goes "all in" and damn, does she as there were a collage of explicit sex scenes but when Nancy achieves her bucket list goals, the movie comes to an abrupt ending. So, is that it?
And what's this thing about Leo being referred to as just "Irish" when apparently, he looks and is Black. While Daryl McCormack happens to be biracial. This was an odd implementation to leave out his black side, as it is the dominant trait. Perhaps it could have added more to the already controversial plot, where thus retired School teacher who was known to be stanch and "puritan" would seek pleasure from a black Irish Gentleman caller, but I digress.
Although it would have come off like some vapid fairytale like Pretty Woman, there was potential for a semi forbidden romance angle when Nancy wanted to become more than a "customer", but Leo kept it as a business transaction. Any opportunity for an ongoing relationship was heavily squandered at the end after Nancy has a cathartic moment after discovering her own independence. Besides, are there that many May-December relationships out there? I guess after this movie, there might be more cougar hook ups when witnessing how Thompson as Nancy, owns her sexuality.
While I am amused at the concept of a post middle aged Woman, rediscovering her sexuality and coming to terms with her body image, the resolution left me with more questions than answers. Does it mean that Nancy no longer cares for male companionship after her sexual awakening? Will she continue to live a life devoid of any male companionship as in dating? And what of Leo, how long will he continue earning a living as an escort? Sure, there was no epiphany that would have him come to terms with his profession and seek a new way to earn, but instead, his chapter was abruptly closed post "sleight of hand" scene as Nancy has fulfilled her ambitions, after her experience, so I guess the viewer can chalk it up as a "happy ending."
What may be deemed as the British/Caucasian spin of How Stella Got Her Groove Back, is overall filmed like some onstage play as opposed to some tour-de-force narrative, though the comparison about a woman's self-discovery and liberation is obvious. Despite a few gripes, Leo Grande accomplished what it was set out to do, inspire feminine empowerment. Ergo, that's the demographic which this movie is mostly targeted towards. Your mileage may vary.
*Sigh* I should've had " Sky and Ollie" handle this review instead. 😸🙀
Good Luck to You, Leo Grande is mow streaming exclusively on Hulu.