XBox@20!
After the unfortunate demise of SEGA's Dreamcast which forced the iconic Game Developer to exit the hardware business, Sony's PlayStation 2 had gained more of a competitive edge against Nintendo. (Prior to the launch of GameCube) The latest Console Wars is about to get more interesting as the latest contender from the United States, enters the arena in a market that was previously dominated by Japan! " One must stand, two must fall?"
Using components from PC architecture, the engineers at Microsoft, had constructed a gaming console that would also function as a multimedia device capable of playing DVD Movies and music CDs. The Xbox made its debut in November 15. 2001 just in time for the Holiday season preceding Nintendo's GameCube by three days and the hype was somewhat justified as this big black box had potential for greatness and not a one and done console like the Atari Jaguar.
Specs:
Custom 733 MHz Intel Pentium III "Coppermine-based" processor
Memory 64 MB of DDR SDRAM @ 200 MHz
Storage8 or 10 GB internal hard drive (formatted to 8 GB with allotted system reserve and MS Dash), 8 MB memory card
GraphicsNvidia GeForce 3-based NV2A GPU @ 233 MHz[4]
The Xbox live service utilized broadband connection for faster speeds, and the system included a more intuitive user interface, the ability to rip music CDs and create a Playlist whether it's for listening or using your very own tracks as background music and that's just the beginning of how a once dismissed console based on my skepticism, became my go-to system when it comes to gaming!
The console's launch was a moderate success selling 1.5 million units before the end of 2001, I got the Xbox around Christmas time in 2002 and this was an advantage for me, since most of the game prices dropped to nearly 40% off. From there, I grabbed Spider-Man, Halo (Which I didn't really care for back then.) and Otogi which was developed by From Software y'know, the Dark Souls, Armored Core and Bloodborne guys?
With the beefy Pentium processor, superior graphics and an 8 gb storage HDD, the Xbox was a force to be reckoned with and not some "one and done" gaming system like the Atari Jaguar or Panasonic's 3DO. This is what forced Nintendo and Sony to take desperate measures by either securing releases from 3rd party developers exclusively in the case of Nintendo's GameCube with Resident Evil 4, 0 and Metal Gear Solid, or Sony PlayStation having a 2-month window release with Metal Gear Solid: Sons of Liberty.
Sure, the PlayStation 2 won the console wars of that generation, but it wasn't due to the hardware, but the games itself but that's not to negate Xbox's exclusive library of great titles i.e., Halo 2, Ninja Gaiden Black, Forza Motorsport, Jade Empire, Breakdown, and Panzer Dragoon Orta just to name a few. The Xbox is not going anywhere and with Microsoft feeling confident based on the console's success, they ventured out to create their successor, Xbox 360!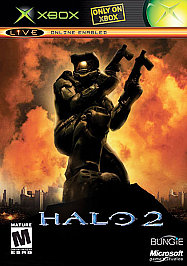 I had so many great experiences with the OG Xbox, and near the latter end of the system's lifespan, I discovered through a friend, that I can hardmod the Xbox that can allow me to rip my games into the limited space hard drive and even better, play retro games like Sega Genesis, NES, and even the Sony Playstation!The Xbox was the very first console I personally modded and still, after a decade, the Xbox modding community has heavily embraced the console with some incredible designs!
Here's just a sample of my very own creations.
With 20 Years since its launch, the Xbox has been officially labeled as a brand, from the original Xbox, to now Xbox Series X/S! So, 20 years of gameplay and innovation, Microsoft's "Black Box" was more than a contender, but a champion of videogaming! Happy 20th Xbox!
Stalks' Xbox pics:
Otogi
Gun Valkrie
Darkwatch
Terminator the Redemption
Gun Metal
Bloodrayne
Robotech Battlecry
Capcom EVO
Psy-Ops The Mindgate Conspiracy
X-Men Legends
Halo 2