The Weekly Wrap: "Whatchoo been Watching?"
So, with some time on my hands, I watched a few films and specials, you know how that saying goes: "So many stream channels, so little time?"
Anyways, here's a selected lot of hits and misses, I laid my eyes upon.
Marvel's Season Finale of "What If..? "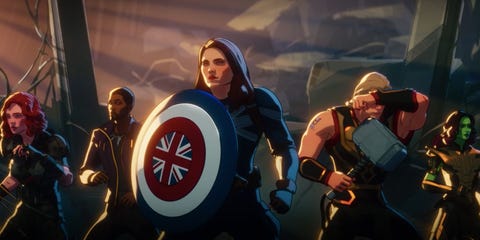 What I liked about "What If ..?" Episode 9 was how all the events from the previous episodes have culminated the protagonists into some Dirty Dozen mission with Uatu recruiting his band of "Avengers" to stop Infinity Ultron before he destroys the Multiverse. This all-star finale pays homage to several MCU films via Easter Eggs and callbacks but despite episode 9's potential, the dialog is bogged down by silly banter that is too Disneyesque for my tastes. I guess writer AC Bradley was trying to make up for the previous nihilistic episodes albeit a weak attempt. However, the is one shining spot during the mid-credits so there's that.
Dave Chappelle's The Closer
Dave is back for another Stand Up Netflix special which he hints, may be his last for a long time. In Closer, Chappelle laments about his reaction after being exposed to the Coronavirus, how once again, the Cancel Culture mob tries to silence him and once again, his Transphobia shtick which overstayed its welcome as the segment was too redundant at times.
However, I give him props for addressing the DaBaby controversy, here we have a Rapper who shot and killed a Man at Walmart three years ago, yet he still had followers..that was until he made a few Homophobic remarks and the backlash was swift and brutal with DaBaby losing out on endorsements. This is where Chappelle blatantly calls out the LGBTQ Community and Pseudo Justice Worry warts for their hypocrisy. Dave's comedy had taken a turn for a sobering moment, after he announced the suicide of a Transgender Comedienne who was vilified by her peers after defending Dave's controversial humor deemed Transphobic. And as of this writing, Mr. Chappelle's special has been met with severe backlash as predicted from the LGBTQ community and even a Black Civil Rights organization. Overall, The Closer is funny and whimsical keeping within the Chappelle's bold context of observational comedy however, some jokes should have been left on the cutting room floor. That said, I admire Chappelle's courage of conviction and how he is blatantly unapologetic when speaking his truths i.e. "Can a Gay person be racist?" And directing his ire at not necessarily the LGBTQ crowd for Cancel Culture, but White SJWs for their hypocrisy and manufacturing outrage. Love him or hate him, Dave Chappelle has the fortitude to walk away from 50 million dollars, because unlike most celebrities, he refuses to be someone's "Whipping boy."
Rewired:Bingewatching HBO's The Wire for the second time!
After hearing about the unfortunate passing of actor and activist Michael Kenneth Williams, I had this need to revisit the Cable Network's popular crime drama that put the posthumous Mr. Williams on the map in the first place. The Wire is one of the few shows that have the antagonists outshine its protagonists and rightfully so when you factor in Stringer Bell, D'Angelo and Avon Barksdale, Snoop, Bodie and especially Omar Little, (Played by Williams) the shotgun toting stickup man who robs drug dealers, catching the ire from the Barksdale organization. The Wire had a slow start during the first three episodes but gets much better afterwards.
There was minor controversy regarding the 2nd season focusing more on the Stevedores linking the Sobatka family to organized crime, which deviated from the show's premise however, creator David Simon wanted to highlight various perspectives from the city of Baltimore, Maryland. In my opinion, Season Four is The Wire's best. It's heartbreaking, horrific, (when you factor in boarded up buildings used as "tombs") followed by a satisfying conclusion that encompasses themes of redemption.
While the fifth and final season wraps things up, the narrative hits a snag when you have Detective McNulty concocting a scheme perceived as a "Win-win" for the Baltimore Police department. Then there's the Baltimore Sun arc, and Gubernatorial candidate Tommy Carcetti which I perceived as filler content but if you're patient enough, you'll realize how everything paid off in the end.
What also makes The Wire so compelling, is the character portrayals both good and bad. Sure, D'Angelo is affiliated with the Barksdale organization, but in the latter episodes, he and a few others demonstrates compassion and becomes more aware of the criminal environment giving way of opportunity to get out of the game.
Rewatching the series after six years ago, is practically seeing it for the first time and that's a good thing!
The Many Saints of Newark
And speaking of HBO, the long-awaited prequel to the Sopranos has arrived and well, if you haven't followed the entire series after 16 years post cancelation, then you might come away confused.
Set during the late Sixties to early Seventies, Saints showcases the formative years of the notorious Mob family with racial strife as in the riots of Newark, NJ and a love triangle subplot, gone astray.
The narration is told through the eyes or rather "soul" of a posthumous character and through Tony Soprano's youth however, it's his uncle and Mentor, Dickie Moltisanti a member of the DiMeo crime family who gets in trouble due to "circumstances."
The story and pacing are a bit dull during the beginning, but picks up the pace 20 minutes afterwards, when the movie gains further momentum, thanks in part to the "Cause and effect" scenarios be it Dick's new wife Giuseppe or Harold McBrayer a Black numbers runner for Dick who becomes disillusioned after the racial tensions sparked by the killing of a Black Cab driver. There is a good blend of betrayal, comedy and surprises. Aside from the performances of Vera Farmiga, Ray Liotta and Leslie Odom, newcomer Michael Gandolfini yes, the son of Tony Soprano's James Gandolfini fills the shoes of his father who passed away in 2013.
Saints features several recognizable characters from the hit series and despite the sporadic needledrops akin to other WB films like Suicide Squad, and a predictable outcome involving a love triangle, overall Saints of Newark is a good prequel that lives up to its expectations. And with an abrupt ending, I'm certain that we will see more prequel sequels in the works!
And that's a wrap for now. So, whatchoo been watching lately?