Phasing the Forth!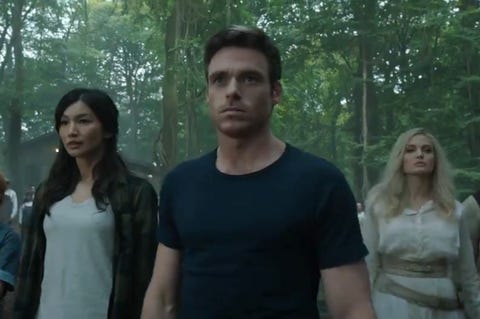 So out of nowhere, a trailer for the upcoming "scheduled " films from the Marvel Cinematic Universe Phase Four has been dropped!
And of course, I am sure most of you reading this, have already seen the trailer which begins with a narration of Stan Lee, Co-founder of Marvel Comics talking about the importance of family as in, his co creations, accompanied by a few past MCU movies and quips in the forefront. It is both sentimental and a bit cliché.
Afterwards, this is where the lineups are introduced with a few brief scenes from upcoming films, Black Widow, Shang Chi and The Eternals respectively. So, here's the deets!
Black Widow – July 9, 2021:
Shang-Chi and the Legend of the Ten Rings – July 9, 2021.
Eternals – November 5, 2021.
Spider-Man: No Way Home – December 17, 2021.
Doctor Strange in the Multiverse of Madness – March 25, 2022.
Thor: Love and Thunder – May 6, 2022.
Followed by an old quote that is or isn't a nod to the late Roger Ebert: "See you at the movies". An optimistic sentiment of how things will get back to normal and everyone will go back to the theaters in an assumingly Post Covid 19 world. Were Disney being too presumptuous when many have yet to be vaccinated, a strain from India that has made its way into the States or people feeling extremely comfortable watching movies in their living room or Den?
This will be an incredibly challenging task for Disney and other Movie studios and distributors. Time will tell. That said, I have to question ending the trailer with Awkrafina's grill?😨 Nuff Said!
That said, I'm looking more forward to Teh Fantastic Four. Bring it on!